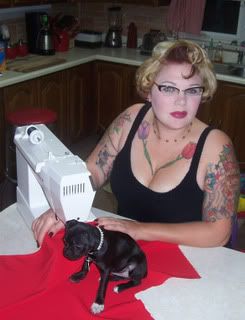 We welcome a new feature to our crafty community; bitch of the month! Here we're going to highlight people who rock. And to start it off, we have Brooke from Indiana. Who is awesome. Broad blanket statement I know, but hell she's one of few people to submit stuff for our contests. And we like that. Now follow suite.
What is your craft
? Mostly sewing, and lots of felt appliqués, but I've also been known to stencil or bead or melt things.
Why do you craft?
It might be trite, but it's really a part of who I am at my most basic level. I need to use my hands to create things. I'll start to feel really antsy and I know I just need to make something.
What are your sources of inspiration?
Tattoos, music, cats. Or tattoos of cats playing musical instruments.
What is your favorite beverage?
Boozey- dirty grey goose martini. Non-boozey- Arizona Lite Arnold Palmer
Where do you buy your favorite beverage?
There is only one gas staion that carries it in my area, and it's a Murphy station.
How did you come up with your business name?
When I had my little girl (Viv, who's now 2), my husband and I were trying to think of the most obnoxious nicknames we could give her. Like ItsyBitsyBreath and Stinky Wizzleteets and things like that. So we called her "Poodlekins" for about a week and when it lost it's novelty, I thought it was an appropriately annoying but memorable name for my Etsy venture.
What is your weapon of choice?
Craft-wise, a good ol' needle and thread are my faves, but I couldn't function without my sewing machine. Violence-wise, knuckle-dusters make it personal.
What would you be doing otherwise?
Other than crafting, I actually do lots of stuff. I foster orphaned kittens, do home-school preschool with Viv, and I'm an official glove-weraing, case-carrying Avon Lady. I also like to bake, cook, get tattooed, watch horror movies, and hang out with fam, including all of the cats and dogs.
Do you have any advice for other crafters?
Make sure that you create SOMETHING every week. Even if it's just an instant gratification thing like a simple beaded bracelet or decoupaged tin. If you don't make sure you keep sharp, you'll be more likely to put down your pinking shears and get lazy.
Any final last words?
I'm glad that BSS is giving it another go. I love to craft within a community, and sometimes that gets bogged down in personalities and politics and just plain bullshit. Getting back to showing our craft work and inspiring each other is really what this whole thing should be about.
Check out her shop:
http://www.etsy.com/shop.php?user_id=5051842